-29% Sale

16,95 11,95

-29% Sale

16,95 11,95

-29% Sale

16,95 11,95

-29% Sale

16,95 11,95

-29% Sale

16,95 11,95

-29% Sale

16,95 11,95

-29% Sale

16,95 11,95

-29% Sale

16,95 11,95

-46% Sale

12,95 6,95

-17% Sale

11,95 9,95

-29% Sale

16,95 11,95

-29% Sale

16,95 11,95

Gratis

verzending vanaf €35!
Advies nodig? Bel

038-4582584

Voor

23:30

besteld morgen in huis!

-29% Sale

16,95 11,95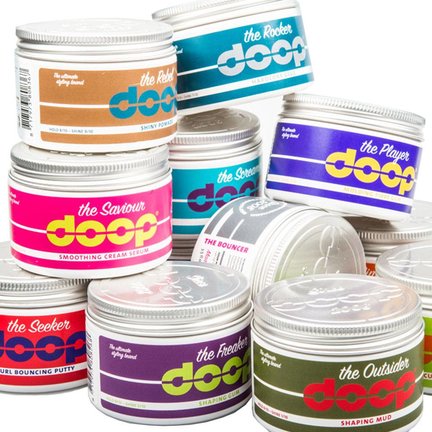 DOOP - Het populaire stylingsmerk is opgericht in Nederland en afgeleid van het woord "dope" dat door jongeren op straat wordt gebruikt. De visie van Doop is dan ook dat de haarmode van de straat komt en niet van de catwalk. Doop heeft zich dan ook laten inspireren door alles wat er in steden als Amsterdam, Tokyo, New York, Parijs etc. gebeurt. Deze doelgroep wenst graag kwalitatief goede stylingsproducten om iets origineels met hun haar te doen. Doop speelt daar met hun producten op in. De slogan die Doop gebruikt is: "if we don't have it, you don't need it." De producten zijn vrij van parabenen.

Haarstyling voor ieder haartype
Doop heeft stylingsproducten voor alle haartypes; kort, middel, lang, krullend, steil enzovoorts. Naast verschillende haartypes zijn het ook verschillende soorten stylingsproducten, zoals een mud, pomade, wax, haarcreme en haarpasta. Elk product heeft zijn eigen glans en stevigheid. De producten zijn niet vet, eenvoudig in gebruik en makkelijk uitwasbaar. Maak nu je keuze uit een van de vele super populaire haarstylings producten!

Naast deze haarproducten bevat het assortiment van Doop ook nog The Blender. Met The Blender kunt u de andere produceren mixen voor een nog specifiekere styling voor uw haar.
Doop heeft voor ieder kapsel het geschikte product. Wilt je graag een 'out of bed look' creëren? Dan is Doop The Player je maat. Wil je graag een old school 'freeze' effect? Smeer dan Doop The Rocker in je lokken. Wil je graag een ruige 'choppy' look? Doop The Ruler is voor jou. Wil je toch liever een Funky Look? Dan is Doop The Freaker je beste vriend. Heb je halflang krullend haar? Dan is Doop The Cather echt wat voor je. Oftewel, ze hebben echt voor ieder wat wils!