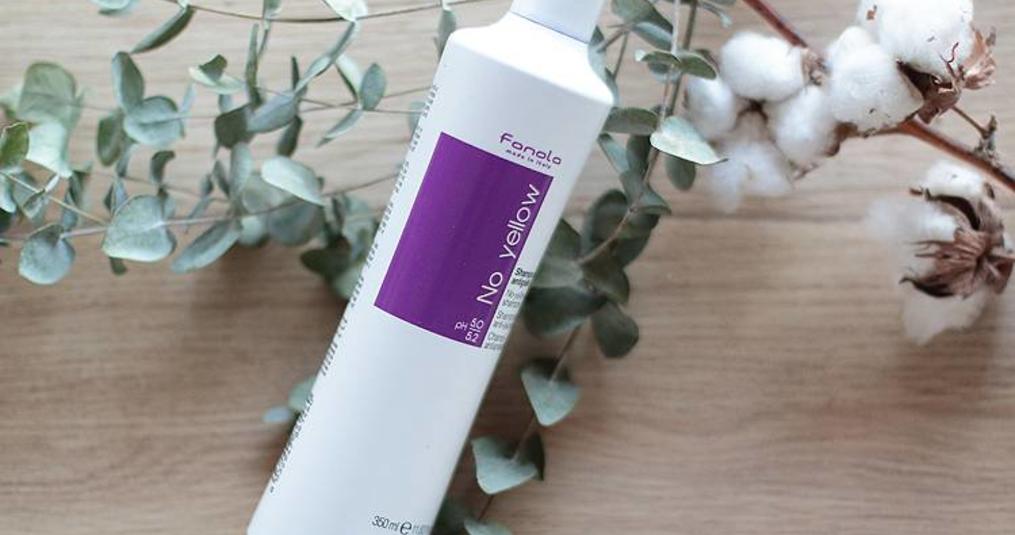 Momenteel is de Fanola No Yellow Shampoo een ontzettend populair product. Nu zijn er ook een boel vragen rondom het product dus vandaar een paar veelgehoorde vragen, uiteraard met antwoorden over de Fanola No Yellow Shampoo.


Wat is Fanola No Yellow zilvershampoo precies?
Het is een blauwpaarse shampoo bedoeld voor het onttrekken van geel pigmenten (warmte) in het haar. De kleur van de shampoo is vrij typisch. Zilvershampoo heeft deze kleur, omdat blauw/paars op de kleurenkaart tegenover geel ligt. Dit zijn complementaire kleuren. Op die manier kan een gele gloed aan je haar worden onttrokken. Stel dat je haar een groenige gloed heeft, dan moet je daar een rood-pigment tegenover zetten om de kleurtint in balans te brengen.


Is de Fanola No Yellow geschikt voor mijn haren?
Heb je blonde haren en heb je een ongewenste gelige gloed in je haren? Of heb je van nature veel warmte in je haar hebt of is een kleuring te warm is uitgevallen? Dan is de Fanola No Yellow aka zilvershampoo tot op zekere hoogte uitkomst bieden. Heb je grijze haren en vervelende gele tinten in het haar? Dan is de Fanola No Yellow je absolute redding.
Wat is het verschil tussen de Fanola No Yellow en de Fanola No Orange?
De Fanola No Yellow is speciaal ontwikkeld voor blonde/lichte haren met een gelige gloed. Echter zijn er ook mensen die ongewenste koper- of roodtinten hebben. Dat is waar de Fanola No Orange om de hoek komt kijken. Deze neutraliserende shampoo is speciaal ontwikkeld voor donkere haren, want ook deze haren kunnen ongewenste warme kleuren hebben. 

Is Fanola No Yellow slecht voor mijn haar?
De Fanola Anti-Yellow Shampoo is niet per definitie slecht of schadelijk. Het bevat geen agressieve bestanddelen, maar deze zilvershampoo bevat in tegenstelling tot een gemiddelde gewone shampoo, minimale verzorgende bestanddelen, waardoor je haar droger kan aanvoelen dan je gewend bent. Daarom adviseren wij ook na de shampoo het haar te verzorgen met de Nutri Care Conditioner en eventueel daartussen nog de Fanola Nutri Care Masker te gebruiken. Zo is het haar weer heerlijk zacht en gaat het toch de gele tinten tegen.

Wordt mijn haar paars van Fanola No Yellow?

Dit hangt af van de kleur en conditie van jouw haar. Heb je heel lichtblond haar, dan is het niet aan te raden om de Fanola No Yellow langer dan 2 minuten in te laten trekken. Lichtblond en met name (vaak) geblondeerd haar is poreuzer en de blauwpaarse kleur kan snel doorslaan in je lokken. Dit is er eenvoudig weer uit te wassen, maar het blijft schrikken de eerste keer. Mocht het haar bij zeer kort gebruik nog steeds in een blauwpaarse haarkleur resulteren dan kun je de shampoo mengen met een "gewone" shampoo, bij voorkeur de Fanola Nutri Care Shampoo, dit maakt de werking van het paars/blauw minder intens.
Mijn haar is paars geworden, wat nu?

Oeps… iets te lang laten intrekken? Geen nood. Het kan even duren, maar je krijgt het er altijd weer uit. Je haar nog eens wassen met een gewone shampoo is normaal gesproken voldoende. Is de paarse gloed niet weg? Dan kun je het nog een paar keer wassen. Soms helpt het om anti-roos shampoo te gebruiken. Dit is overigens wel een vrij agressieve shampoo, waarvan je haar droog kan aanvoelen, dus pas op met intensief gebruik!

Hoe vaak mag ik de Fanola No Yellow gebruiken?
Omdat de shampoo weinig tot geen voeding bevat, is dagelijks gebruik niet aan te raden, sowieso heb je dan ook eerder kans op een paarse gloed, dan wanneer je het slechts af en toe gebruikt. Maar door het te combineren met de juiste verzorgende producten is er niet echt een max.
Waar kan ik meer informatie vinden over zilvershampoo zoals Fanola No Yellow?
Wij begrijpen dat je goed ingelezen wilt zijn voordat je aan de gang gaat met de Fanola No Yellow Shampoo. Op de pagina Zilvershampoo vind je alle informatie die je nodig hebt om een juiste beslissing te nemen voor de bij jouw passende zilvershampoo. Wordt Fanola No Yellow jouw nieuwe must have?