Schwarzkopf Bonacure Fibre Force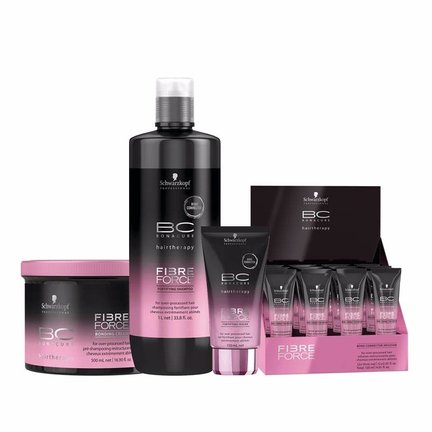 Bonacure BC Fibre Force is de absolute redder in nood als je haren extreem beschadigd zijn. Verander je bos touw, weer in een prachtige, glanzende bos die zijdezacht aanvoelt. De BC Fibre Force lijn gebruik je in vier stappen: rebonding, fixing, sealen en verlengen van de haarbruggen. Hierdoor heb je minder haarbreuk en weer stralende haren! Met de Fibre Force lijn van Schwarzkopf weet je zeker dat je haren diepgaande reconstructie krijgt, en daarnaast ook beschermd wordt. Je voelt je haren gewoon sterker en gezonder worden. 
Hoe werkt de Bond Connector Technologie van BC Fibre Force?
BC Fibre Force Bond Connector Technologie hersteld het haar op een diepgaande manier én verzegeld  je haar. Je haarkwaliteit zal enorm verbeteren en heeft 10x meer weerstand tegen haarbreuk ten opzichte van onbehandeld haar. Wat gebeurt er precies met je haar? De Bond Connector Technologie creëert haarbruggen binnenin het haar. Hieronder een illustratie zodat je ook écht ziet wat er gebeurt met je haar.
Bron: Schwarzkopf-professional.nl 
De schubbenlaag wordt vervolgens bezegeld, oftewel de schubben krijgen een beschermlaag. Hierdoor is je haar van binnenuit versterkt en wordt deze versterking beschermt tegen invloeden van buitenaf. Het is dus duidelijk dat BC Fibre Force ook écht de redder in nood is bij extreem beschadigde lokken!
Welke haarproducten zijn er van BC Fibre Force? 
De lijn BC Fibre Force van Schwarzkopf Proffesional bestaat uit 6 producten. Voor het beste resultaat raden wij aan om de haarverzorgingsproducten als holistisch care regime te gebruiken. Helemaal als je nog steeds beste vrienden bent met je stijltang, krultang of föhn. 
De BC Fibre Force Shampoo is een sulfaatvrije shampoo die je lokken op milde manier reinigen én versterkt. De BC Fibre Force Sealer Conditioner is een leave-in milk die ervoor zorgt dat je haar er weer stralend en gezond uitziet. De BC Fibre Force Fortifying Primer Spray is een leave-in conditioner primer spray die je haarvezels versterkt en glans toevoegt. De BC Fibre Force Fortifying Mask is een haarmasker die ideaal is om 2 maal per week je haren een extra 'voedend kwartiertje' te geven. Als laatste is er de BC Fibre Force Scalp & Hair Serum. Het serum is een keratine concentraat serum dat de innerlijke haarbonden versterkt en gebruik je wekelijks. 
Is BC Fibre Force geschikt voor mij?
Is de BC Fibre Force lijn niet geschikt voor jouw lokken, of weet je het niet zeker. Dan verwijzen wij je graag door naar de pagina van Schwarzkopf Bonacure, hier vindt je alle productlijnen van de categorie Bonacure. Heb je alsnog een dringende vraag? Neem dan gerust contact op met ons team via [email protected] Wij helpen je met alle liefde.
Service van Haarspullen.nl
Shop Schwarzkopf BC Fibre Force online op Haarspullen.nl. De order wordt dezelfde dag verstuurt, mits je het vóór 23.00 hebt besteld. Is het totale bedrag van je bestelling € 35,- euro of hoger, dan wordt je pakketje kosteloos opgestuurd.
Heb je een vraag neem dan gerust contact op met ons team? Stuur een mailtje naar [email protected] of bel ons team, dan krijg je nog sneller antwoord. Wij wensen je veel plezier met het shoppen van Schwarzkopf BC Fibre Force bij ons.