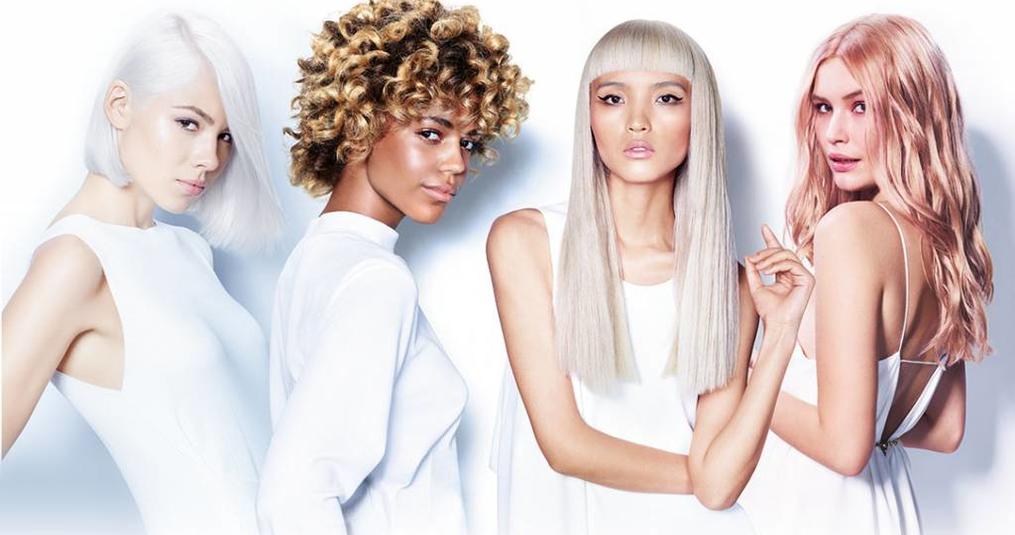 Het is helemaal hot & happening op het moment, pastel gekleurde lokken. En nu kun je zelf aan de slag, want met de nieuwe BLONDME Instant Blush Wash heb je in een handomdraai prachtige Rosé Gouden lokken. Of wat dacht je van Lila? Er is in elk geval genoeg keuze. Het knappe koppen team van Schwarzkopf Professional zijn bij elkaar gaan zitten en hebben hun ideeën uitgewerkt en realiteit gemaakt. Met de sulfaatvrije pastel shampoo kan jij dit nu ook gewoon thuis realiseren. 
Wat is BLONDME Instant Blush Wash precies?
Bron - Schwarzkopf professional.nl
BLONDME Instant Blush Wash is heel simpel een shampoo die je lokken in één wasbeurt tijdelijk omtoveren tot een waanzinnige pasteltint. Ideaal voor alle festivals die om de hoek staan, of gewoon een heerlijk borrelavondje. De pasteltint is van tijdelijke aard, maar is niet binnen no-time weg. Je kan wel iets langer genieten van je pastel gekleurde lokken, want de tint is na 5 wasbeurten verdwenen. Je kan dan weer genieten van je eigen kleur of je kiest gewoon een ander prachtige pasteltint! Waarom ook niet? Vooral met met het zomerseizoen en de festivalletjes, we benadrukken dit graag even ;)
Welke kleuren van BLONDME Instant Blush Wash zijn er?
Bron - Schwarzkopf professional.nl
Het team van Schwarzkopf Professional is met maar liefst vier kleuren gekomen:
Schwarzkopf Professional BLOND ME Instant Blush Wash Lilac
Schwarzkopf Professional BLOND ME Instant Blush Wash Silver
Schwarzkopf Professional BLOND ME Instant Blush Wash Strawberry
Schwarzkopf Professional BLOND ME Instant Blush Wash Apricot
Hoe gebruik je Schwarzkopf BLONDME Instant Blush Wash?
De sulfaat vrije shampoos met een prachtige pasteltint is het beste te gebruiken op blonde lokken. Vandaar ook dat het onder de lijn BLONDME is uitgebracht, deze lijn is speciaal voor (natuurlijke) blondines ontwikkeld. Om een pasteltint in je haren te creëren hoef je niet zoveel raars te doen, of ingewikkelde handelingen. Was je prachtige, blonde lokken zoals je dat altijd doet. Wil je alleen bepaalde delen van je lokken een pasteltintje? Dat kan natuurlijk ook, dat vraagt iets meer nauwkeurigheid maar resultaat mag er zijn! Je kan bijvoorbeeld ook alleen je puntjes een prachtige pastel tint toevoegen, gewoon een kleine extra bite voor dat leuke feestje. 
BLONDME Instant Blush Wash Rose Gold Pastel Tint inspiratie
Ons team wil je natuurlijk graag inspireren dus zijn we even opzoek gegaan naar inspiratie, en daar hoefde we niet te lang naar te zoeken. Bij Schwarzkopf Professional weten hoe ze een nieuwe lancering moet doen, inspiratie maakt blij! 
Hier vindt je de inspirerende video die in samenwerking is gemaakt met de bekende Kim Vo. Na het zien van de video wil je gewoon pastel lokken! 
Is BLONDME Instant Blush Wash sulfaat vrij? 
Schwarzkopf Professional BLONDME Instant Blush Wash is een sulfaat vrije shampoo, dus ook geschikt voor blondines met een gevoelige hoofdhuid. Een sulfaat vrije shampoo, dat is natuurlijk een shampoo zonder sulfaten. Wat waren sulfaten ook alweer? Sulfaten zijn zouten van zwavelzuur. Een sulfaat zorgt ervoor het reinigen van het haar, echter zijn zeer krachtige én redelijk agressieve reinigers. Dit zorgt geregeld voor een uitgedroogde en irriterende werking op de hoofdhuid. De BLONDME Instant Blush Wash is dus een sulfaat vrije shampoo die op milde wijze je lokken reinigt. 
Hoe werkt de BLONDME Blush Wash Technologie precies?
Ook in de de Blush Washes van Schwarzkopf Professionalvan BLONDME hebben de Bonding Technologie. Ook bevatten de Blush Washes allemaal het pastel deposito systeem. 
Het Advanced Bonding System komt voor in de producten voor het ontkleuren én kleuren van BLONDME. Deze prachtige technologie die de knappe koppen van Schwarzkopf Professional hebben uitgekiend bestaat uit maar liefst drie stappen.
Bron: Schwarzkopf-professional.nl
Stap 1. is de bescherming van je haarbruggen
Het bindt zich met de haarvezel voor een ijzersterke structuur van de haarbruggen
Minimaliseert ook de haarbreuk
Bron: Schwarzkopf-professional.nl
Stap 2. is de creatie van nieuwe haarbruggen in je haren
Het creëert nieuwe haarbruggen en stabiliseert daarnaast ook de haarstructuur
Dit zorgt voor een duurzame kracht en soepelheid in je lokken
Bron: Schwarzkopf-professional.nl
Stap 3. is de verzorging in je eigen huis
Het behoudt de haarbruggen thuis tussen de bezoekjes aan je kapper
Hierdoor verlengt het de kleurresultaten, wat weer zorgt voor glans die veel langer straalt
De Schwarzkopf Professional sulfaatvrije Blush Wash Shampoo die de mix van directe pastel pigmenten bevat zorgen ervoor dat ze zich aan het haaroppervlak vasthouden, zodat je een lokken krijgt die zacht aanvoelen, prachtig glanzen én een prachtige pasteltint die gelijk is verdeelt over je haren. Hieronder de zie je de combinatie van de technologie die de Schwarzkopf Professional Instant Blush Washes bevatten.
Bron: Schwarzkopf-professional.nl
Ons team is nu al helemaal fan van BLONDME Instant Blush Wash. Laat het festivalseizoen maar beginnen! Of een ander leuk feestje natuurlijk!