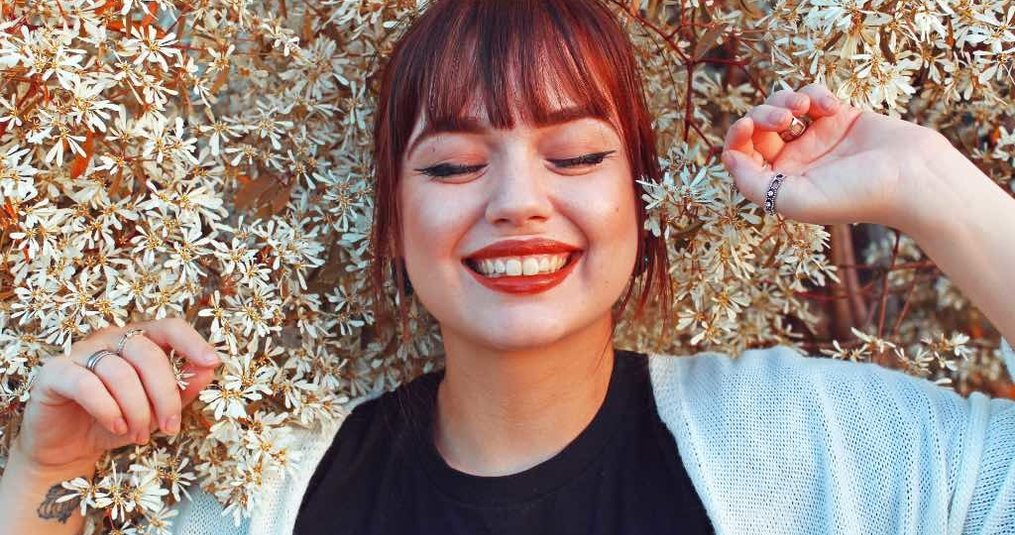 Zo, wat missen we onze kappers en kapsters en die heerlijke kappersstoel! Van even je puntjes bijwerken tot transformaties van haarkleuren, je hoefde er niet naar om te kijken. In deze gekke tijd kunnen we ineens niet meer naar de kapper, en dat is natuurlijk mega balen als je geverfde haren hebt en langzaam uitgroei krijgt. Om je toch een eindje op weg te helpen, leggen we jullie de basics uit van je eigen haren verven.
Disclaimer van ons team: Wij van Haarspullen.nl willen benadrukken dat het verven van haren specialistisch werk is en mede daardoor nemen wij geen enkele verantwoordelijkheid op mislukte verfbeurten.
Wat moet ik weten voordat ik mijn haren ga verven?
Voordat je je haren gaat verven, moet je jezelf eigenlijk eerst een aantal vragen stellen. Dit om de kleur en conditie van je haren te bepalen. Ga bijvoorbeeld het volgende na:
1 - Welke kleurhoogte heeft mijn uitgroei?
Probeer te achterhalen welke kleurhoogte de uitgroei heeft die je wilt bijwerken. Op basis hiervan kies je jouw developer. Wist je dat haarverven bijna altijd onderverdeeld zijn in cijfers? Dit gaat van donker naar licht, waarbij een 1 zwart haar is en een 10 heel lichtblond. Bij een 5 zou je dus op bruin haar zitten. Natuurlijk heeft elk merk hier haar eigen variaties in, dus let goed op de kleurnummers als jij eens kiest voor een ander merk. Kijk goed naar de kleurhoogte van de uitgroei, bij de aanzet. Probeer ook na te gaan hoe grijs je bent. Als je de haartjes kunt tellen kun je 3% developer gebruiken. Als je meer dan 10% grijs bent (en de haartjes niet meer kunt tellen), gebruik dan een 6% developer of een een extra grijsdekkende verf.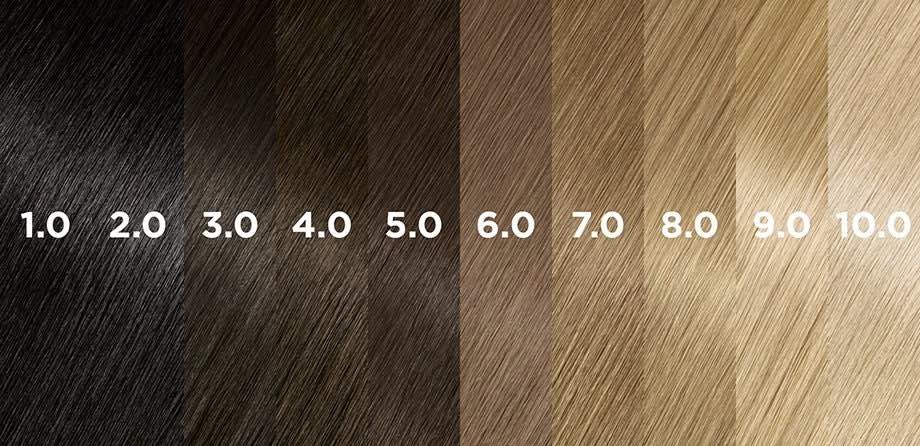 Bron: L'Oréal Paris https://www.loreal-paris.nl/
2 - Wat is de conditie van mijn haren?
Het is belangrijk om de conditie van je haren te bepalen. Als je poreus haar hebt raden we je aan om een lage % developer te kiezen. Als je veel verschillende kleuren hebt of kleurophopingen is het lastig om zelf te bepalen welke haarverf en developer je nodig hebt, omdat dit anders kan uitpakken dan je verwacht. 
3 - Moet ik mijn haren verven of is een kleurverfrisser of kleurspoeling voldoende?
Het zou natuurlijk mooi zijn als je de tijd tot de volgende kappersbeurt kunt overbruggen met een kleurverfrisser of kleurspoeling. Dan zien je haren er toch weer lekker fris uit met een mooie glans. Dit is minder 'definitief' en beschadigd je haren veel minder (kleurspoeling) tot niet (kleurverfrisser). 
Welke soorten haarkleuringen zijn er?
Er zijn verschillende soorten haarkleuringen waar je uit kunt kiezen. We hebben ze op een rijtje gezet:
Permanente haarverf - Dit blijft permanent in je haren zitten en meng je altijd met een developer. De kleur is dus niet uitwasbaar. Na verloop van tijd kan de kleur wel vervagen of kun je uitgroei krijgen.
Blondering - Onder permanente haarverf valt ook blondering. Dit kan je haren heel wat niveaus lichter maken. Voor blondering heb je ook een developer nodig.
Semi-permanente haarverf (kleurspoeling) - Dit is semi-permanent. Dit is een soort laagje om je eigen haarkleur heen en is minder definitief dan een permanente haarverf. Ook hierbij heb je een developer nodig.
Kleurverfrisser - Je hebt ook tijdelijke haarkleuringen beschikbaar in allerlei soorten en maten. De één is krachtiger dan de ander. Hier heb je geen developer voor nodig.
Tijdelijke haarkleuring - Je hebt ook haarkleuringen die blijven zitten tot de volgende wasbeurt. Zo heb je een concealer in poedervorm, kleurspray, kleurmousse of gel. Ook hier heb je geen developer nodig.
Welke semi-permanente haarverf kan ik gebruiken?
Wil je graag een keer ervaren hoe het is om je eigen haren te verven, maar het liefst niet zo definitief? Dan is een kleurspoeling een goede eerste stap, want dit is tijdelijk. Voor een semi-permanente haarkleuring gebruik je gewone haarverf en een developer met een lage percentage. 
Welke developer heb ik nodig voor een kleurspoeling?
Voor een kleurspoeling heb je andere percentages nodig van een developer. Dan kun je kiezen uit bijvoorbeeld een 1,5% of een 2%. Deze zijn heel wat milder. Een spoeling is tijdelijk en vervaagt met de tijd door het aantal wasbeurten. Het frist je haarkleur op en geeft je haren weer een glans.
Je zou bijvoorbeeld de KIS-kappers DMI Lotion 1,9% kunnen gebruiken. Deze maakt van verf een kleurspoeling met een goede dekkracht. 
Kan ik zonder haarverf mijn haarkleur verfrissen?
Zeker weten! Wij hebben hele leuke kleur opfrissens die jouw haren een superleuk kleurtje geven. We hebben een aantal merken op een rijtje gezet die je zou kunnen gebruiken:
Deze merken komen weer in allerlei soorten kleuren en maten. Bovendien hebben ze ook allemaal een andere sterkte. Lees dus altijd goed de productomschrijving. 
Kan ik zonder haarverf mijn uitgroei bijwerken?
Durf je het toch niet aan maar wil je wel graag je uitgroei bijwerken? Gelukkig bestaat hier simpele oplossingen voor: root concealers. Een simpele spray waarmee je in een handomdraai je uitgroei hebt bijgewerkt. En je spoelt het er zo weer uit. Bekijk deze eens:
L'Oréal Hair Touch Up  -  is een spray die je gemakkelijk kunt spuiten op de plek waar de uitgroei zich bevindt. Op die manier kun je gemakkelijk je uitgroei camoufleren. Superhandig voor een tijdelijke en snelle dekking. De L'Oréal Hair Root Cover Up is verkrijgbaar in 5 kleuren: zwart, bruin, lichtbruin, donkerblond en mahonie bruin.
Color WoW Root Cover Up - is een tijdelijke haarkleuring in poedervorm om je uitgroei te camoufleren. Je uitgroei en/of grijze haren verdwijnen direct (100% grijsdekking). De Root Cover Up is in meerdere kleuren verkrijgbaar: platinum blond, blond, lichtbruin, mediumbruin, donkerbruin, zwart en rood. 
Redken Root Fusion Concealer - is een gemakkelijke oplossing om langer te genieten van je gekleurde haren. Het is een spray die een natuurlijke dekking geeft aan je haren. De spray blijft goed zitten en is gemakkelijk uitwasbaar. Je kunt kiezen uit vier kleuren: zwart, auburn, bruin en lichtbruin.
Wat heb ik nodig om mijn haren te verven?
Toch besloten om je haren te verven? Zorg dan dat je het volgende in huis hebt: 
Wat is een developer?
Om te beginnen heb je bij haren verven altijd een developer nodig. Een developer heeft vele benamingen, zoals oxidatie, developercream, peroxide, activator, lotion, etc. Voor het gemak noemen wij het een developer. In bijna alle gevallen kun je kiezen voor 3%, 5%, 9% en 12%. Dit zijn de verschillen:
3% - Is voor het inkleuren van je haren
6% - Licht je haren 1 tot 2 tinten op. Hier kun je grijs haar goed mee dekken
9% - Licht je haren 3-5 tinten op
12% - Licht je haren tot 5 tinten en hoger
We raden af om de 12% te gebruiken zonder hulp van een ervaren kapper, het kan namelijk brandplekken veroorzaken of je haren verbranden.
Welke mengverhouding moet ik aanhouden? 
De menghouding is afhankelijk van de hoeveelheid haar en lengte en de hoeveelheid verf je nodig bent. Meestal is de mengverhouding 1:1, of bij sommige verftubes 1:1.5 of 1:2. Een voorbeeldje: 
1:1 - Dit is 50/50. Dus evenveel verf als developer
1:2 - Dit is 1 deel verf en 2 delen developer
Hoeveel haarverf heb ik nodig? 
Voor het verven van je uitgroei heb je uiteraard minder haarverf nodig dan dat je je hele haren wilt verven. Als we uitgaan van een normale dikheid van de hoeveelheid haren dan heb je ongeveer 50cc verf nodig voor uitgroei. Hoe je dit doet? Je kunt een elektrische weegschaal pakken met een kleine verfmaatbeker om dit te controleren. Bij een mengverhouding van 1:1 neem je 25cc uit de tube verf en 25cc van de developer. Dit mengsel meng je goed door tot alles goed is gemengd en verdeeld.
Hoe verf ik mijn haren?
Om thuis het beste uit je haarkleuring te halen, hebben we een aantal tips/stappenplan hoe je dit het beste kunt aanpakken:
Stap 1 - Ga voor de juiste haarkleur
Elk merk heeft haar eigen variaties in kleurnummers, dus let goed op de kleurnummers als jij eens kiest voor een ander merk. Het eindresultaat van je haarkleur is ook afhankelijk van meerdere factoren, zoals bijvoorbeeld de ondergrond van je haren en de manier van toepassen. 
Stap 2 - Misschien eerst een tijdelijke kleur kiezen?
Dit is minder schadelijk dan haarverf en je haren zien er weer verfrist uit. Als je het spannend vindt, kun je ook eerst een de kleuring doen op een klein gedeelte of een paar haartjes, zodat je het effect kunt zien.
Stap 3 - Zorg dat je alles in huis hebt
Eenmaal begonnen aan je haren verven en erachter komen dat je te weinig haarverf hebt... dat wil je niet. Zorg dus dat je genoeg haarverf en developer in huis hebt. Een verfbakje en kwast is ook mega-handig.
Stap 4 - Trek je oude kleding uit de kast
Nu kun je morsen wat je wilt! Zonder dat je bang hoeft te zijn dat de haarverf niet meer uit de kleren gaat.
Stap 5 - Let's do this
Tijd om je haren te kleuren. Doe dit altijd op schoon haar, maar 24 uur na je laatste wasbeurt om de natuurlijke talglaag je hoofd te laten beschermen. Lees goed de bijsluiter door en houd altijd de aangegeven tijd aan die op de gebruiksaanwijzing staat. Smeer je haarlijn in met vaseline, zodat de haarverf niet in je huid trekt. Toch een vlekje? Gebruik dan een scrub om het te verwijderen. Was de haarverf uit met shampoo en was vervolgens 1-2 dagen je haren niet, zodat de haarkleur kan 'settelen'. 
Stap 6 - Je nieuwe haarkleur verzorgen
Een verzorgende nabehandeling na het kleuren is belangrijk. Maar gebruik geen shampoo, dit kan je haarkleur strippen. Gebruik producten die speciaal zijn ontworpen voor gekleurd haar of een conditioner. 
Hoe kom ik erachter of ik allergisch ben voor haarverf?
Haarverf kan een allergische reactie veroorzaken. Het is verstandig om eerst te testen of je misschien allergisch bent voor haarverf. Gebruik in ieder geval geen haarverf als:
Je een gevoelige, geïrriteerde of beschadigde hoofdhuid hebt
Je in het verleden allergische reacties hebt gekregen van haarverf
Een tijdelijke tatoeage in het verleden heeft gezorgd voor een allergische reactie
Sla deze voorzorgsmaatregel dus niet over. Meng 48 uur voordat je je haren gaat verven 1 afgestreken theelepel haarverf en 1 afgestreken theelepel developer en meng dit met elkaar. Smeer vervolgens dit mengsel met een wattenstaafje in je elleboogholte en laat dit 45 minuten inwerken (vermijd contact met kleding). Let goed op dat je de haarverf en developer weer goed afsluit. Na 45 minuten kun je het mengsel met ruim lauwwarm water weer afspoelen. Let de komende 48 uur goed op of er reacties zichtbaar zijn:
Jeukend gevoel
Brandend gevoel
Roodheid/verkleuring
Opzwelling
Duizeligheid, misselijkheid, kortademigheid
Raadpleeg een huisarts als er reacties zichtbaar zijn en gebruik de haarverf niet.
Waar kan ik mijn vraag stellen over haarverf?
Het is ontzettend lastig om vanaf een afstand te bepalen welke haarverf of developer je nodig bent. Dit hangt namelijk van veel dingen af: de conditie van je haren, de kleurtoon, de poreusheid, etc. Het is voor ons dus onmogelijk om een verfkleur of developer voor je uit te kiezen, mede om mislukte verfbeurten te voorkomen. Dat willen we natuurlijk niet! :). Daarom raden we je aan om een ervaren kapster in je omgeving te vragen om de juiste verfproducten te adviseren. Vragen over het product zelf kunnen wij natuurlijk wel beantwoorden, hier helpen we jou graag mee verder. Mail je vraag naar [email protected] en we proberen zo snel mogelijk te reageren.