Professionele Krultang
De krultangen zijn dé musthaves op het gebied van krultangen.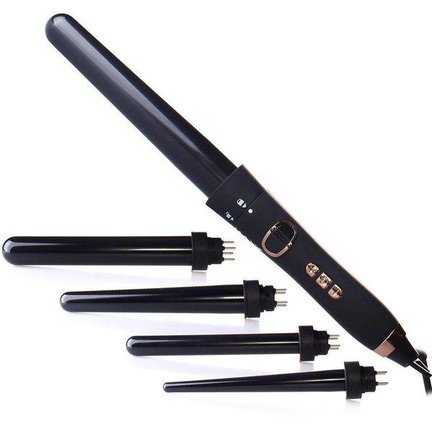 Gooi je haar los en laat je bouncy krullen, poppige krullen of je volumineuze, nonchalante lokken de wereld een stukje mooier maken. Met de krultangen van tegenwoordig is geen krul te gek. Zorg ervoor dat je de juiste stylingsproducten gebruikt in combinatie met je favoriete krultang, zodat je weet dat je de ultieme look creëert. 
Krultangen zijn tegenwoordig dé musthaves op het gebied van perfecte styling. De krultangen op haarspullen.nl zijn met zorg geselecteerd en van erg hoge kwaliteit. Op haarspullen.nl worden enkel professionele producten verkocht en de krultangen zullen dan ook vaak in kapsalons worden gebruikt.
Welke krultang past het beste bij mijn haren?
Je kan tegenwoordig zoveel doen met een krultang, dat het belangrijk is dat je eerst een paar dingen helder moet hebben. Je hebt namelijk te maken met verschillende maten krultangen, verschil in haartype én jouw wensen. We helpen je graag om deze vragen te beantwoorden zodat jij jouw ideale krultang kan bestellen en aan de slag kan met je prachtige lokken! 
Wat voor krullen wil je maken met de krultang?
Wil je golvende en grote krullen in je lokken creëren? Gebruik dan een dikkere krultang met een diameter van 25 millimeter of groter. Deze krultangen zijn ook geschikt voor het maken van slag. Hiervoor rol je alleen de punten van je haar om de tang heen en kam je vervolgens de krullen uit. In verband met de dikte van de tang zijn krultangen voor grote krullen niet geschikt voor korte lokken.
Zoals de CHI Dura Curler, Max Pro Twist,  Balmain Keramische Krultang, of de GHD Curve Classic Wave Wand.
Een mooie krul van gemiddelde grootte maak je met een krultang met een diameter van 15 tot 24 millimeter. Krultangen met deze diameter zijn ook geschikt voor het creëren van slag, maar geven een minder natuurlijk resultaat dan krultangen voor grote krullen. Je gebruikt de krultang met dit formaat voor haar vanaf kaaklengte. Zoals de CHI Dura Curler of de Max Pro Miracle.
Voor kleine krullen met veel volume gebruik je een krultang met een diameter van 14 millimeter of kleiner. De krullen zijn dan kleiner en zitten dichter op elkaar. Na het uitkammen creëer je bijzonder veel volume in je lokken. Door de kleine diameter zijn krultangen van dit formaat ook geschikt voor kortere kapsels. Draai de uiteindes van de kortere lokken om de krultang voor een kleine krul, slag of volume in je lokken.
Welke haartype heb ik en hoe kan ik de krultang erop aanpassen?
Je haartype is bepalend voor de temperatuur die je gebruikt bij het maken van een krul of slag.
Voor duf of fijne lokken zit je goed bij een temperatuur van 180°C. Dun haar wordt sneller warm en vormt zich dus ook sneller naar de krul.
Voor normale lokken zit je goed met een temperatuur van 200°C.
Voor dikke, grove lokken zit je over het algemeen goed bij een temperatuur van 220°C. Dik haar wordt minder snel warm en vormt zich daarom ook minder snel naar de krul. Oftewel je haar heeft meer warmte nodig om zich te vormen naar de nieuw vorm(krul).
Voor geverfde en beschadigde lokken zit je meestal wel goed bij een temperatuur van 180°C om het gewenste resultaat te bereiken. Echter raden wij het af om een krultang of andere hitte tools te gebruiken op beschadigd haar. Je kan je lokken beter de tijd geven om te herstellen en goed te hydrateren en te voeden.
Wat doet een keramische staaf precies bij de krultang?
Veel krultangen op Haarspullen.nl zijn gemaakt van keramiek. We raden aan om bij veelvuldig gebruik een stijltang van 100% keramiek of titanium te kiezen. De keramische staaf zorgt ervoor dat de haarschubben goed sluiten. Hierdoor wordt de kleur langer behouden en zal het haar mooi glanzen. Daarnaast hebben veel krultangen een keramische heater. Deze heaters produceren negatieve ionen, die ervoor zorgen dat het vocht in het haar behouden blijft. Hierdoor droogt het haar niet uit en blijft het haar gezond. Tenslotte zijn de meeste krultangen in hitte verstelbaar, dit maakt een krultangen geschikt voor ieder haartype.
Hoe werken negatieve ionen bij een krultang?
Van nature bevat je lokken positieve ionen, dit zijn een soort elektrische ladingen. Deze positieve ionen zorgen er voor dat de haarschubben open gaan staan, wat zorgt voor pluizige lokken. Dat wil je natuurlijk absoluut niet! De negatieve ionen heffen de positieve ionen op, waardoor de haarschubben weer dicht gaan. Het vocht wordt hierdoor langer in je lokken behouden en pluizig haar wordt dan gladder en glanzender. Oftewel hallo prachtig, glanzende en stralende lokken!
Moet ik een heat protectant gebruiken bij een krultang?
Bij het gebruik van een stijltang is het belangrijk dat je een bescherming tegen hitte gebruikt voor je lokken. Je wilt natuurlijk niet dat je over een paar weken onder de categorie beschadigde lokken valt. Onderaan de pagina hittebescherming vindt je meer uitleg over de verschillende heat protectants. De hardlopers die voor iedereen geschikt zijn, zijn de CHI 44 Iron Guard Spray, de 100% vegan Maria Nila Cream Heat Spray en de Biosilk Silk Therapy Thermal Shield. 
Waar kan ik mijn vraag stellen over de krultang?
Bij haarspullen.nl kun je in onze online shop Krultangen online kopen. Wij zorgen ervoor dat je order, die je plaatst vóór 23.00 uur, dezelfde werkdag aan jou wordt verzonden. Bij een bestelling vanaf € 35,- profiteer je van gratis verzending. Daarnaast bieden wij jou de service van achteraf betalen.  
Heb je een vraag over één van onze producten of onze service? Je kan van ons verwachten dat wij supersnel antwoord geven op al jou vragen via mail. Vaak ook buiten kantooruren. Daarnaast kun je ons ook telefonisch bereiken. Wil je meer informatie? Bekijk dan eens onze veelgestelde vragen. Wij wensen je veel plezier met het shoppen van een Krultang bij haarspullen.nl.