Wat is de beste zilvershampoo op dit moment? Gekleurd blond haar heeft veel meer kleuring nodig dan we ons kunnen veroorloven bij de kapper, dus zorg met de volgende shampoo's dat je die gelige tinten er thuis uit kan houden.

Zilvershampoo is de shampoo voor dames en heren met blond, grijs of wit haar. Door de Violet (paarse) pigmenten die in de shampoo zitten zijn dergelijke shampoos perfect om van die vervelende gele gloed af te komen. De kleur is paars/blauw, zodat het de tegenovergestelde kleur neutraliseerd, in dit geval de ongewenste gelige haarkleur. Door dagelijks het haar te wassen met een Zilvershampoo hou je de warmte uit het haar en hoef je niet elke week bij de kapper te zitten.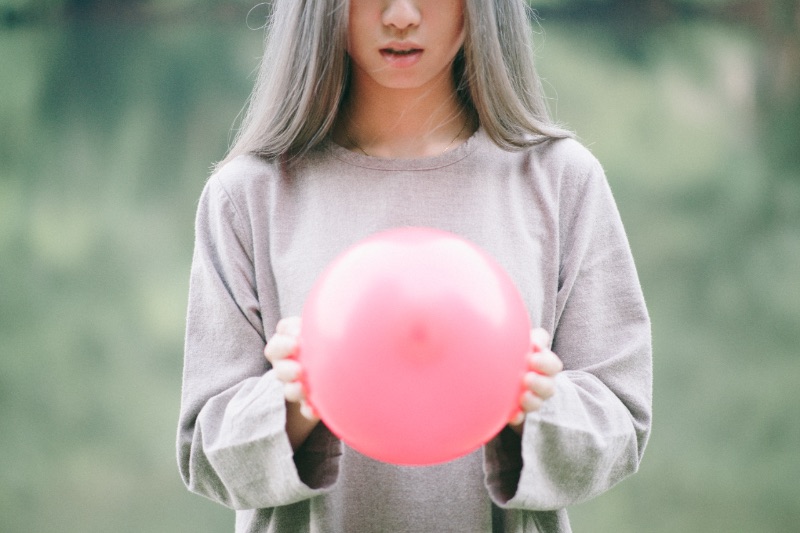 Wat is de beste Zilvershampoo?
Er zijn ontzettend veel soorten Zilvershampoo verkrijgbaar en er zit vaak verschil in de hoeveelheid pigment die gebruikt wordt bij het ontwikkelen van het product. Een Silvershampoo van Syoss bevat duidelijk minder pigment dan bijvoorbeeld de Fudge Violet Shampoo. Dit is opzich logisch, hoe goedkoper het product vaak moet zijn, hoe minder kwalitatief de ingrediënten zijn. Nu zul je vanaf het eerste gebruik zeer goed het verschil merken tussen een professionele zilver shampoo en een goedkopere variant. Wij hebben een top 10 samengesteld, waarbij op 1 de zilvershampoo met het meeste pigment en dan aflopen.



Wat is de TOP 10 Zilvershampoo van 2020?
Tegenwoordig zijn er ontzettend veel zilvershampoos op de markt. Maar welke zijn nou daadwerkelijk goed, en nog beter welke past het beste bij mijn haren? Dit is natuurlijk per persoon verschillend, dit hangt namelijk van je haren af. Echter hebben wij een top 10 samengesteld gebaseerd op zilvershampoos met het meeste violet pigment. 

Dit hebben wij getest en de volgorde is dus gebaseerd op de hoeveelheid paars pigment in de zilvershampoo. Natuurlijk kan een Zilvershampoo ook teveel pigment bevatten voor jouw haar. Als je ontzettend wit haar hebt, dan kan het al gauw zijn dat de kleur na het wassen richting roze of paars gaat. Dit is eenvoudig te voorkomen door bij het gebruik van de shampoo deze te mengen met een andere shampoo. Zo kun je zelf een beetje spelen met het effect van de shampoo.
Is de Fanola No Yellow Shampoo echt zo goed?
Een hele bekende is natuurlijk de 
Fanola No Yellow Shampoo
, dit is een ontzettende hype onder de Zilvershampoos. Dit product komt uit Italië en bevat zoveel pigment dat er wordt aangeraden handschoentjes te gebruiken bij het gebruik van deze shampoo. Er zijn ontzettend veel lovende reacties over de shampoo en dit blijft doorgaan, vandaar ook dat deze Fanola Zilvershampoo met recht op plek 1 staat! 
Hoe werkt het Fanola No Yellow Zilvershampoo effect?
 
No Yellow oftewel dé zilvershampoo
De No Yellow shampoo, ook wel bekend als zilvershampoo, zilvershampoo of Fanola Paarse shampoo doet absoluut wat hij moet doen. Hij tovert warme blonde lokken om in askleurige lokken. De paarse pigmenten zorgen ervoor dat je een prachtige koele tint krijgt. Hoe langer je de No Yellow laat zitten, hoe effectiever het werkt. Echter is de zilvershampoo bijna niet verzorgend. Daarom is het aan te raden om niet elke dag de No Yellow te gebruiken. Wij bieden hier op haarspullen.nl een   aan voor als je het wel écht dagelijks wilt gebruiken. De Nutri Care conditioner zorgt dan voor de voeding van je lokken. 
Fanola staat bekend om de uitstekende Zilvershampoo en nu ook het Zilverconditioner, die gebruikt wordt in blond(geblondeerd), Highlights, Coupe soleil, Balayage of grijs haar en is bedoeld om die mooie koele kleuren (grijs, as en grijs tonen) langer te behouden. Door verschillende oorzaken, kan er soms een gele gloed in je gekleurde lokken komen. Verkleuring kan ontstaan door de omgeving of doordat je het hebt geblondeerd. Als jouw lokken rood pigment bevat (door het verven of van jezelf) en je wilt je lokken blond verven, kan het voorkomen dat je oranje, geel of blonde lokken krijg met een té warme gele gloed. Het is een veel voorkomend probleem. Je wilt een mooie koele blonde tint maar het wordt warmer of geler dan je zelf wilt.
Biedt het Fanola No Yellow Zilvermasker een intensieve voeding?
Fanola No Yellow Masker bevatten uiteraard ook de paarse pigmenten, waardoor de gele tint uit je lokken verdwijnen. Echter is het zo dat de No Yellow Masker meer voedt dan de shampoo. Eigenlijk is dit masker de conditioner van de set. Hier zitten namelijk meer voedende ingrediënten in. Om voor een optimale combinatie te zorgen tussen het creëren van een koele tint én je lokken te voeden is daarom aan te raden om de Fanola No Yellow set te combineren met de Fanola No Yellow Masker.  
Fanola 'No Yellow Masker' en 'No Yellow Shampoo' bevatten extra paarse pigmenten waardoor je haar die koele, zilverachtige blonde tint krijgt en langer behoudt en je haar veel natuurlijker aanvoelt. Heb je genoeg aan de No Yellow Shampoo dan raden wij onze set aan, met de Nutri Cure Conditioner. Wil je echt maximaal resultaat behalen dan raden we de No Yellow masker aan. Een combinatie van alle 3 is ideaal. Zo kun je eens of twee maal per week het masker in je lokken smeren, zodat je haar écht geen gele gloed meer heeft. Toch heb je dan dagelijkse verzorging vanwege de Nutri Care. 
Hoe werkt de Schwarzkopf Goodbye Yellow Zilvershampoo?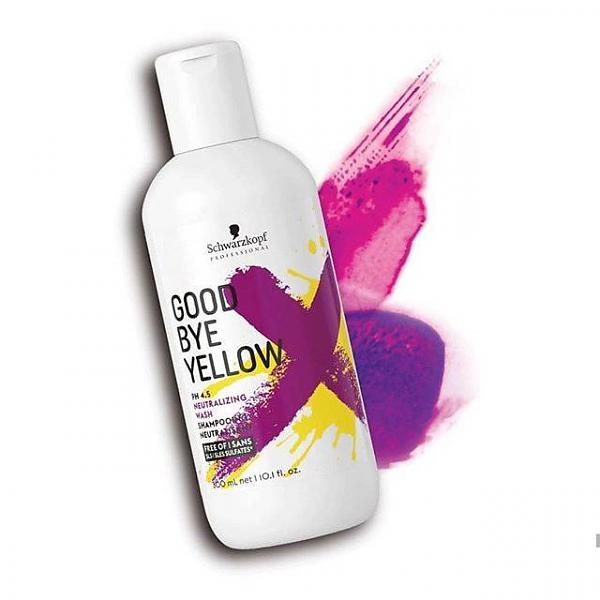 Wil je graag inspiratie, of wil je graag zien wat het effect is van een zilvershampoo? Heel begrijpelijk. Daarom heeft ons team een aantal video's voor je opgezocht zodat je heel goed de werking ervan kan zien. Het zijn vier verschillende videos, met vier verschillende haarkleur. 
Bestaat er een 100% vegan zilvershampoo?
Tegenwoordig zijn we allemaal bezig om de wereld een stukje mooier en beter te maken. De vraag of er een zilvershampoo bestaat die 100% vegan is, is dan ook niet heel raar. Beter gezegd, het is een steengoede vraag! En zeker dat deze bestaan. Maria Nila is een briljant merk die helemaal 100% vegan zijn, inclusief de zilvershampoo.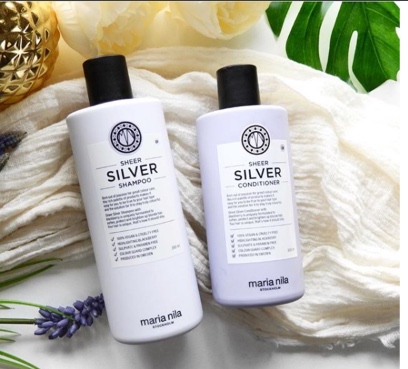 Sheer Silver Shampoo van Maria Nila is ook een verzorgende zilvershampoo die gele tinten neutraliseert. Ook bevat deze zilvershampoo het Color Guard Complex wat ervoor zorgt dat je haren beschermt tegen kleurverlies dat wordt veroorzaakt door o.a. wassen, warmte en UV-styling. 
Maar natuurlijk is Maria Nila alleen! Nee, zeker niet. Een ander favoriet merk van ons team is REF Sweden, ook een 100% vegan lijn. Uiteraard kunnen de knappe koppen van REF Sweden niet achterblijven in zilvershampooland en hebben ze ook een Silvershampoo op de markt gebracht. De REF Sweden Cool Silver Shampoo. Helaas is er geen Silver Conditioner aanwezig, maar dat is ook niet nodig aangezien deze zilvershampoo genoeg pigment bevat om je gele tinten te neutraliseren.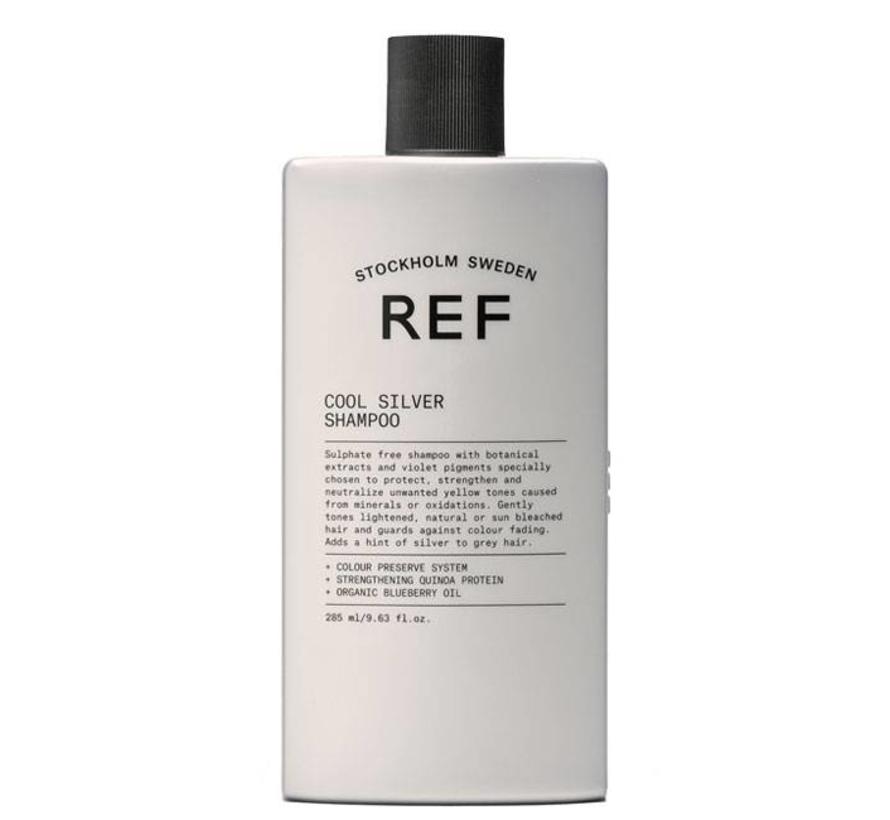 Bestaat er een zilvershampoo die vrij is van sulfaten, parabenen en siliconen?
Sulfaten, parabenen en siliconen zijn niet echt goed voor je haren en hoofdhuid. Sulfaten en parabenen zijn agressieve schoonmakers die vaak een geïrriteerde hoofdhuid veroorzaken. Iets wat je liever niet hebt. Een zilvershampoo met veel violet pigmenten is al aardig pittig voor je haren, als deze dan ook nog eens vol met sulfaten, parabenen en siliconen zit is niet echt een fijne combinatie. Zeker niet als je er al gevoelig voor bent. 
De REF Sweden silver shampoo en de Maria Nila Sheer Silver zijn niet alleen 100% vegan, deze zijn ook allebei vrij van sulfaten, parabenen en siliconen. De Goodbye Yellow van Schwarzkopf Professional is vrij van SLS/SLES sulfaten. De TIGI Catwalk Fashionista Violet Shampoo is vrij sulfaten. De Keune Silver Shampoo is vrij van parabenen. 
Bestaat er een travelsize zilvershampoo?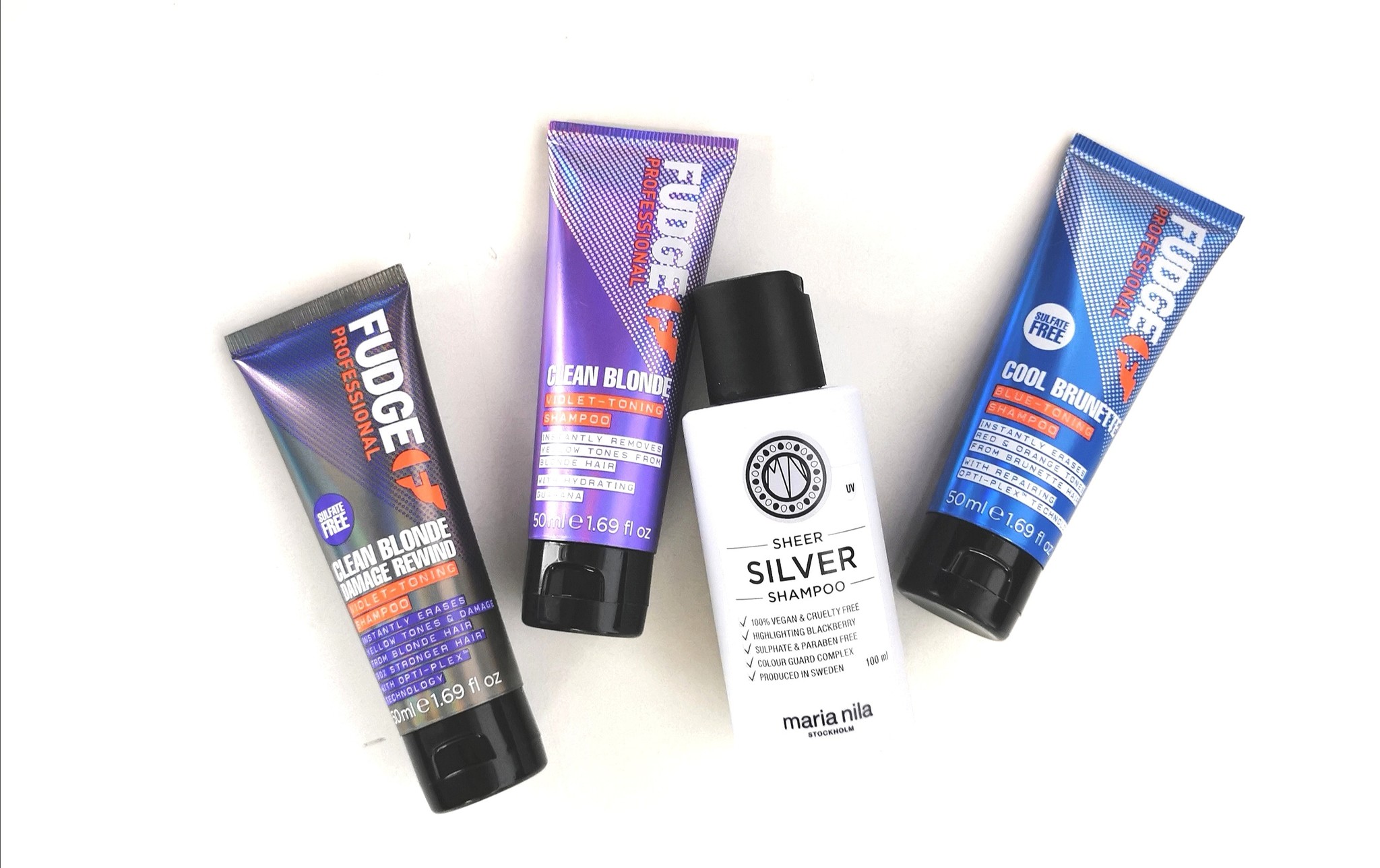 Als je op vakantie gaat wil je je prachtige, koele blonde lokken behouden. Er is niks zo ideaals om een travelsize zilvershampoo on the run te hebben als je bevoordeeld gaat citytrippen. Daar hebben ze bij Fudge aangedacht! Zij hebben een travelsize Fudge Violet Shampoo Mini. De 'on the go' shampoo bevat 50ml zilvershampoo. Wil je helemaal voorbereid zijn op je (mini) vakantie dan kan je ook de Fudge Tri-Blo Violet Spray in je reistas gooien. Echter is deze helaas niet in travel variant, maar het fijne is wél dat het een lichtgewicht haarproduct is. Je hebt er dus niet echt veel last van. 
Uiteraard heeft Maria Nila ook de zilvershampoo in travelsize. Namelijk de Maria Nila Sheer Silver Shampoo. 
Welke zilvershampoo moet ik gebruiken bij donkere haren?
Als je brunette bent of donkere lokken hebt heb je eerder een oranje/rode tint in je haren die je niet wilt. Daarom is werkt een zilvershampoo die gele tinten neutraliseert vaak niet. Gelukkig is hier over nagedacht, hiervoor is er No Orange ontwikkeld.
Fanola No Orange
is speciaal voor brunettes en ook Fudge heeft een ontzettend goed product op de markt gebracht, namelijk de
Fudge Cool Brunette
.  Ben je er niet helemaal uit of het nu gelig of meer oranjeachtig is dan zit je altijd goed met de
Schwarzkopf Goodbye Yellow
, deze bevat een unieke combinatie van paarse en blauwe pigmenten. Door deze combinatie gaat het niet alleen het geel tegen in het haar maar ook de oranje tinten. De formulering is aangepast naar een pH niveau van 4,5 voor effectieve en langdurige resultaten. Het is een nieuw ontwikkelde zilvershampoo van Schwarzkopf die het zeker waard is om te proberen en in de gaten te houden.
Hoe kan ik het beste een silver shampoo gebruiken?
Wij begrijpen dat het lastig kan zijn wat je nu het beste kan doen. Op de pagina
Zilvershampoo
 staat zeer veel informatie over o.a. het gebruik van een paarse shampoo. Hier staat eigenlijk alles wat je moet weten zodat jij direct aan de slag kan met je zilvershampoo. Of je het nu elke dag gaat gebruiken of drie keer in de week. En waarom er paarse shampoo is en wat dit verschilt met een blauwe shampoo. 
Ik heb een vraag over zilvershampoo, waar kan ik deze stellen?
Mocht je nog steeds met een vraag zitten na het lezen van bovenstaande informatie, neem dan gerust contact op met ons team. Wij helpen je graag duidelijkheid te geven zodat jij een goede keuze kan maken. Stuur je vraag naar [email protected] Wil je snel antwoord? Bel ons team dan tijdens kantooruren.