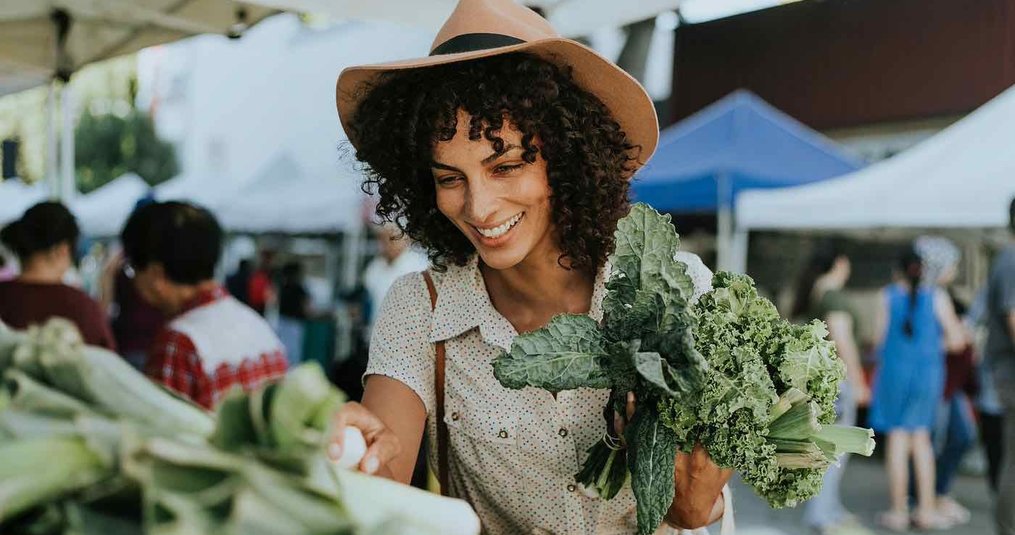 Wat houdt hoog poreus haar nou precies in?
Hoog poreus haar is haar waarbij de haarschubben openstaan. Haarschubben? Yes! Haren bestaan uit haarschubben, als je onder een microscoop kijkt lijken deze haarschubben een soort dakpannen die op elkaar aansluiten. De mate van poreusheid zegt iets over je haarschubben en hoe deze dakpannen erbij liggen. Bij een lage porositeit is er weinig tot geen ruimte tussen de dakpannen, terwijl hoge porositeit juist enorm veel ruimte ertussen zit.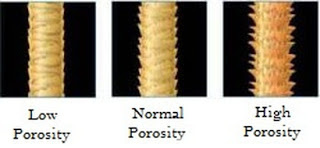 Goed, nu we weten wat haarschubben precies zijn, gaan we verder met hoog poreus haar :)
Haarschubben zijn enorm belangrijk voor je haren, deze zijn namelijk een beschermlaag en ze zijn gemaakt van keratine (lichaamseigen eiwit). Wat zijn problemen die gevolg zijn van openstaande haarschubben?
Je haar blijft niet lang gehydrateerd
De kern van je haarstreng wordt niet meer beschermd
Wat zijn de oorzaken van hoog poreus haar?
Poreus haar kan door ontzettend veel dingen komen. Iedereen kamt of borstelt zijn of haar haar wel. Als je poreus haar hebt komt er teveel haar los tijdens dit proces. En dat is niet zonder reden. Dit komt door de slechte elasticiteit en dat je prachtige haren zwak is geworden. Maar hoe komt dit toch?
Te vaak borstelen of kammen van je haren
Genetische aanleg

 

Je haren met een ruwe handdoek gewoon oldskool drogen (i.p.v. deppen)
Overmatige blootstelling aan zonlicht
Het verven of blonderen van je haren
Het gebruik van hittetools
Haarspullen met schadelijke ingrediënten
Een verkeerde zuurgraad
Wat zijn kenmerken van krullen met een hoge porositeit?
Ben je er nog niet helemaal uit of je haren hoog poreus zijn, of toch wellicht midden poreus? Lees snel verder en ontdek of je haren hoog poreus zijn: 
Je haren voelen droog aan, zijn ruw, zeer breekbaar en het heeft weinig tot helemaal geen glans
Je haren gaan snel klitten en breekt onwijs makkelijk af. Dit komt doordat je haren weinig elasticiteit hebben 
Pakt kleur (verven) enorm makkelijk, maar verliest het ook weer snel (open haarschubben)
Het pakt verzorging ook direct op, helaas kan je haar dit niet vasthouden en wordt het snel weer droog(open haarschubben)/
Pluizig haar
Krulverlies
Veel gespleten punten

 

Je haar droog super snel (binnen 2 uur)
Je haar wordt snel nat
Waar moet ik opletten bij verzorging van krullen die hoog poreus zijn?
Als je hoog poreuze krullen hebt, dan ga je aan de slag om je krullen tijdelijk te repareren. Écht herstellen van beschadigd haar kan niet, je kan het natuurlijk afknippen en opnieuw beginnen maar dat is natuurlijk wel heel rigoureus. 
Welke shampoo moet ik gebruiken voor mijn poreuze krullen?
Je poreuze krullen zijn al beschadigd, daarom is het belangrijk dat je zo voorzichtig mogelijk aan de slag gaat. Je wilt je krullen herstellen, niet verder beschadigen. Een shampoo met sulfaten is dus zeker een no-go. Het beste is om geen shampoo te gebruiken, want dit vraag aardig wat van je haren. Zoals je wellicht weet, en misschien ook niet.. shampoo zorgt ervoor dat je haarschubben worden opgezet, zodat de haar echt schoongemaakt kan worden. Dit doet zelfs de meest milde shampoo. Je hebt hoog poreus haar, je haarschubben staan dus al open, ze zijn beschadigd en kunnen hierdoor niet meer dicht. 
Om echt goed te reinigen, is het raadzaam om met een zeer milde shampoo je krullen te wassen. Als je je krullen helemaal niet wast, krijg je uiteindelijk build-up en raakt de boel verstopt. Hierdoor kunnen je haren en je hoofdhuid niet ademen en raakt de boel verstopt. Als gevolg hiervan kan je zelfs haaruitval krijgen, dat is natuurlijk helemaal niet wat je wilt. Je wilt nieuwe, gezonde haren krijgen :)
En wat doe je de rest van de maand dan? De rest van de maand kan je je krullen wassen met een conditioner die reinigende eigenschappen heeft.
Welke haarmasker moet ik gebruiken bij hoog poreus haar?
Hoog poreus haar heeft verzorging nodig, heel veel verzorging. En liefde! Daarom is een haarmasker enorm belangrijk. Een mask zorgt er namelijk voor dat je haren gehydrateerd worden. Een absolute aanrader van een goede haarmasker die Curly Girl Methode proof is en geschikt is voor hoog poreus haar is het Keracare natural Textures Deep Moisturzing Masque. 
Dit deep moisturizing masker bevat dan wel geen proteïne, maar daarvoor gebruik je dit haarmasker niet. Je gebruikt dit haarmasker om te intens hydrateren. 
Als een haarmasker zoekt die ook proteïne bevat dan is het belangrijk dat het aangeeft dat het je krullen versterkt. Logisch, want je haar bestaat in gezonde staat voornamelijk uit keratine (eiwit/proteïne).
Bestaat de rest van je krullenroutine uit proteïne rijke haarverzorging? Ga dan voor een haarmasker die puur ontwikkeld is op moisture. Uiteindelijk draait het erom dat je de ideale balans krijgt tussen morsure en proteïne in je haar. Zo krijg je de ideale krul die terugdeinst, glanst en eigenlijk gewoon danst. 
Tip tussendoor voor hoog poreus haar ♡ 
Het is heel belangrijk dat als je circa elke 2 weken, vooral in het begin van je krullenavontuur de "watertest" en rektest doet. De samenstelling van je krullen veranderen natuurlijk door de haarspullen die je gebruikt. Zo ben je niet alleen bewust bezig met het proces naar gezonde en stralende krullen, maar ook of net iets meer proteïne nodig hebt of juist weer moisture. 
Heb ik een proteïne treatment nodig voor mijn hoog poreuze krullen?
Hoog poreus haar is beschadigd haar, je haarschacht is aangetast en defect. Je wilt deze kapotte plekken herstellen, als je een kapotte huid hebt pak je een pleister. Zo is dat met een proteïne treatment. Waarom? Je haren bestaan voor het grootste deel uit proteïne(keratine). Een proteïne treatment bestaat uit allerlei proteïne bestanddelen die je haarschacht voor een aantal weken repareren. Ook hier geld weer dat je de moisture en proteïne balans in de gaten moet houden voor je haren. Je wilt niet dat één van beide teveel is, je wilt dat dit in balans is. Daarom -> blijf je krullen altijd in de gaten houden en blijf testen. Dit is een avontuur die je aangaat, helemaal in het begin. Je leert je krullen steeds beter kennen en hierdoor weet je steeds beter wat wel werkt en vooral wat niet werkt :) 
Zijn je krullen zodanig beschadigd dat ze eigenlijk niet meer te redden zijn, dan ga je aan de slag met een reconstructor. Een rnonconstructor, die uit proteïne bestaat zorgt ervoor dat alle schade aan je krullen, dus haarbreuk, kapotte haarschubben etc. gerepareerd worden. Een razend populair en ontzettend veel verkochte reconstructor is de Olaplex No.3 Hairperfector Treatment. 
Moet ik ook een leave-in conditioner gebruiken voor hoog poreus haar?
Abosoluut! Je haren hebben moisture nodig, en een leave-in conditioner is de stap die je nooit moet overslaan. Als jij je haren hebt gewassen en geconditioneerd hebt, gebruik je een leave-in conditioner. Daarna ga je pas verder verzorgen of stijlen. Een leave-in conditioner is eigenlijk het moment voor extra hydratatie, en dat is precies wat je haren zo nodig hebben. Je hebt hoog poreus haar, dus dan is het van belang dat je een leave-in conditioner gebruikt die proteïne bevat. Proteïne versterkt je haren, dus let altijd op woorden als "repair" of "strengthening".
Hoe kan ik ervoor zorgen dat mijn poreuze krullen gehydrateerd blijven?
Je krullen nemen alles super easy op, maar verliezen het net zo snel. Hoe kan je erna voor zorgen dat je gehydrateerd en sterke krullen krijgt, maar vooral hoe je dit behoudt? 
Haarolie kennen we allemaal, maar wist je ook dat er iets  iszoals sealer olie en penetrating olie? Er zijn verschillende soorten olie, en dat betekend dat er ook verschillende eigenschappen zijn. Hieronder vind je het verschil tussen deze 2 soorten olie:
Penetrerende olie is een olie die uit kleinere moleculen bestaat en deze hebben de mogelijkheid om door je haar te dringen. Moisturizing oliën zijn:
Monoï olie
Kokosolie
Palmpitolie
Zonnebloemolie
Sealerolie bestaat uit grotere moleculen waardoor het niet door je haar kan dringen. Het blijft dus heerlijk op je haar liggen en vormt hierdoor een extra barrière. Sealer oliën die een beetje hydrateren zijn:
Avocado olie
Arganolie
Olijfolie
Calendula olie
Amandelolie
Pure sealers:
Jojoba olie
Castorolie (wonderolie)
Daarom is een volgorde van producten ook enorm belangrijk. Daarom kan je wel allerlei olieën gebruiken en nog steeds droog haar hebben. Je haren voelen steeds vetter aan, maar wordt tegelijk steeds droger….Wat gebeurt er nu? Je sealed je haren af, zonder dat je er eerst een moisture ingooit. Daarom is een goede leave-in conditioner ook zo van belang! Als je eerst intens hydrateert en het daarna 'afsealed' als het ware blijven je haren eindelijk gehydrateerd! Yessssss! We kunnen nog een stapje verder gaan, en dan kom je uit op de LOC/LCO methode.
Is de LOC/LCO methode geschikt voor mijn krullen?
Voor de dames en heren met dikkere haartypes vanaf krultype 3a tot 4a, is de LOC/LCO methode heel interessant. 
Waar staat de LOC methode en de LCO methode precies voor?
LOC is de afkorting voor liquid(leave-in), oil en cream.
LCO is de afkorting voor liquid(leave-in), cream en oil.
L -  liquid ofwel leave-in staat bekend om haar hydraterende eigenschappen. Daarom is het van belang altijd een leave-in te gebruiken. 
O - olie heeft sealende eigenschappen, zoals je hierboven al kon lezen. Ze sluiten de haren af zodat de hydratatie goed in je haren blijven zitten.
C - crème is dik en vaak op basis van boters, zoals de meest bekende Shea Butter. Ook boters hebben een sealende werking. Echter wordt een crème in je haren gebruikt als stylingsproduct, wordt de crème omgedraaid met de olie zodat je de LCO methode krijgt. Het is voor jezelf even proberen wat het beste werkt voor je krullen :)
Heb je fijne krullen dan is het af te raden om zware krulproducten te mijden, en te gaan voor lichte producten.  
Ben je net begonnen met nieuwe leven blazen in je krullen? Geef jezelf en je krullen de tijd, je haren moeten namelijk ook wennen aan nieuwe producten. let gewoon goed op wat voor je krullen werkt en wellicht is het handig om op te schrijven wat de resultaten zijn van bepaalde producten op je krul. In het begin een gepuzzel, daarom raden we aan om met zo min mogelijk producten te beginnen en na een aantal weken één nieuw haarproduct erbij te pakken om te proberen. 
Zo kan je het beste de resultaten zien. Succes!